News
| Preview3 |
Preview2
|
Preview1
|
Preview 3
Kanako Yonekura Offers Insights on Badminton's Olympic Medalists
This year's YONEX OPEN JAPAN is poised to be extra-incredible, with many athletes who competed in Rio set to play in Japan. If it's your first time watching badminton, this article will tell you everything you need to know about the big stars and their big moves.
We asked former Japan National Team coach Kanako Yonekura to offer her expert insight into a number of these amazing Olympic medalists.
Carolina Marin (ESP)
Women's Singles—2016 Rio Olympic Gold Medalist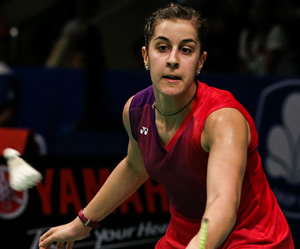 Born on June 15th, 1993, Carolina Marin started practicing badminton at the young age of 8. At age 14, she started training with the Spanish National Team.
The amount of people who play badminton in Spain is a mere 7,000. Needless to say, it is an unlikely environment for a future badminton star to be brought up in. However in 2009, a teenage Marin won at the European U17 Championships and let the badminton world know of her natural talent for the sport. In 2014, she won the very first BWF World Championships title for Spain, and would go on to defend her title the following year.
She would of course go on to win the Gold Medal at the 2016 Rio Olympic Games. How does she do it?
Strong Passion. Strong Game.
The Secret to Marin's Olympic Success
"She's learned how to be more patient. In the past her desire to win was too strong that she would end up losing, and scream. She was quite a wild girl—so much so that her coach would have to apologize. (laughs)
But now she has been able to channel that great energy. She wants to win, but she can control her emotions and has learned to think more calmly. You can certainly tell she's done a lot of hard work to get this far."
On Marin's Playstyle
"While she is very offensive, she has always been good around the net. But like I said earlier, she was not very good at controlling her emotions in the past, and would usually commit errors after attacking.
But now she's very calm, and can hit soft shots around the net. She can now create way more opportunities to attack."
Marin's Super Shot
"Her left hand smash! It's an on-court explosion! If you're in the path of her smash, you won't be able to stop it.
Her clears also have good strength to them. Her shots are very heavy, and gradually wear down on her opponents. Please be sure to keep an eye out for her court-commanding tactics!"
---
P.V. Sindhu (IND)
Women's Singles—Rio Olympic Silver Medalist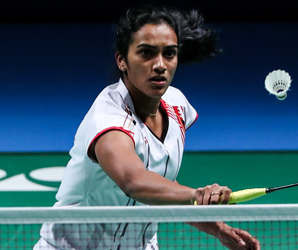 This hard-hitting Indian athlete was born on July 5th, 1995 and came out of the 2016 Rio Olympic Games with India's first Silver Medal. She defeated Japanese Nozomi Okuhara in the quarterfinal with her pure, unparalleled and unapproachable force.
This super-aggressive player got her start in badminton at age 8. Athletic at a young age, she looked up to her father—a former volley ball star. However, after seeing fellow Indian Pullela Gopichand win the Yonex All England Badminton Open Championships in 2001, she decided that badminton was the sport for her.
Taking that inspirational moment to heart, she began training at the Gopichand Academy, practicing under academy's very specific game-improvement program. Prior to the Olympics, she would spend some days practicing for as much as 12 hours.
Smart, Smooth and Varied: Sindhu's Offence
Yonekura's Post-Olympic Impression of Sindhu
"She was giving 200% out there. She typically plays with more errors, and her height of 180 cm may affect her balance. However at the 2016 Rio Olympics, she was a pure star."
Sindhu's Super Shot
"While Marin hits heavy, Sindhu hits smooth. Her overhand shots are diverse, with expert control over speed. When talking about speed variation, normal players usually think of mixing smashes and drop shots. However, top players are able to combine cuts and cut smashes and apply vary slight variations in speed to their shots.
Sindhu is very good at applying very precise changes to her shot speeds. Please keep an eye for how she commands her racquet speed on the court."
Thoughts on Sindhu
"I feel she has amazing concentration. As she goes through more matches, her concertation improves even more. I would say that at big events, she can really perform when it counts."
What to Look Out For
"After the Olympic final, I am sure many people will gather to see the potential re-match between Marin and Sindhu in the YONEX OPEN JAPAN quarterfinal.
This is a digression, but while both Marin and Sindhu are players with quite big physiques, they are built differently. Marin has very few openings, while in comparison the slender Sindhu looks very open on the court.
However, that's mere appearances. Her long arms and legs allow her great court cover. This makes her a surprising player for most first-time spectators, so keep an eye out for that."
---
Lee Chong Wei (MAS)
Men's Singles—Rio Olympic Silver Medalist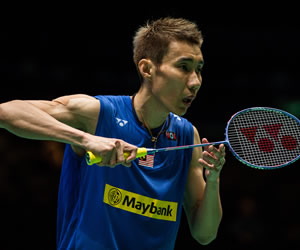 Badminton Legend Lee Chong Wei was born on October 21st, 1982. Turning 34 next month, this top badminton star is a father of 2.
Chong Wei's carrier is long and storied. After winning his first title at the 2004 Malaysian Open, his collection of titles has been ever increasing. He is truly a legendary player, who had the distinction of standing at the World No. 1 spot for nearly four years between 2008 and June of 2012. He also won the YONEX OPEN JAPAN crown five times. However, he has never been able to get the Gold Medal at either the BWF World Championships or the Olympic Games. He earned his third straight silver in the recent Games in Rio.
While stating "I probably won't be able to compete in Tokyo," after the Rio Olympics, this badminton Legend will be appearing in the 2017 BWF World Championships, with is eyes fixed on the Gold.
Post Olympics: Chong Wei's Undying Passion
Three Silvers: Chong Wei's Feelings
"Three straight Olympic Silver Medals. I cannot imagine how let down he must have felt. I would not be surprised if it's still occupying his mind. However, I have nothing but respect for players like him that continue to win even with the changing generations. His worries and mine are on a different level. (laughs)"
On Court at 34
"When Chong Wei was about 30, he mentioned aging off-hand. From that point on, he's likely been feeling changes in his body. However, losing speed and power with age cannot be helped. Looking back at myself, I would usually try to control the speed of my opponent by adjusting shuttle speed and power."
Is Chong Wei's Game Changing?
"In the past, Chong Wei would play at full speed on the court with no issues. Now, perhaps he's limiting the occasions when he plays at max power.
That's exactly why I am interested in how he is able to find complex ways to break his opponents down. Now, he's gotten way better at badminton's mind game—the tactics. He's incorporated more variety into his plays, and has gotten very good at creating openings in his opponents.
Rather than relying on physical strength, Chong Wei now plays based on his experience, breaking down his opponents with skill. This is what's fans should look out for from him on the court."
The Amazing Chong Wei
"He's going into the BWF World Championships next year. It looks like he wants to stay in the game.
Despite tasting regret, he still has strong passion. He's still looking for ways to evolve. That challenger spirit is proof of a very strong heart. This is the Lee Chong Wei you all should look out for."
---
Viktor Axelsen (DEN)
Men's Singles—Rio Olympic Bronze Medalist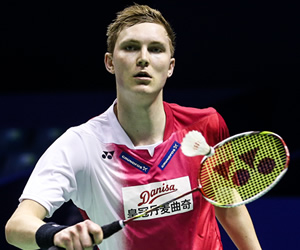 Born on January 4th 1994, Viktor Axelsen picked up a badminton racquet for the first time at 6 years old. He started serious practice at 8, and now stands at a tall 194 cm. After graduating high school, he decided to go pro.
The 22-year-old Dane rocked the badminton world at the 2016 Rio Olympic Games, becoming the first Dane to medal in badminton since Poul-Erik Høyer at the 1996 Atlanta Games. He's proving that Western players can excel in a sport that has been dominated by Asian athletes for so long.
Strong Receive. Stronger Attack.
On Axelsen's Playstyle
"While people like to call him an attacker, I think he's very good on the receive. The manner in which he is able to set up attacks with his receives is very good.
With his long arms and legs, he's able to grab the shuttle with ease. He's also able to match the timing of the shuttle and racquet, making compact strikes for a very controlled return. His racquet work is truly exquisite."
Axelsen's Super Shot
"Please look out for Axelsen's lob. When he swings the racquet, he changes his swing mid-way for a very interesting lob. He will look as if he's trying to strike in front of the net, but quickly changes the shot into a lob. His opponents can't keep up.
This is a tactic also used by the great Legend Peter Gade. Maybe Axelsen learned it from in, or maybe all Danish players practice this technique. "
The New Generation of Danish Badminton
"Axelsen's shots are quite varied, while Gade plays at a very consistent speed and is quite orthodox. Axelsen most certainly has the bigger bag of tricks. However, this could just also be a difference in generation."
What to Look Out For
"While you should look out for him on the court, off the court he's a fine young man. Maybe it's just the Danish players—they all have gentlemanly air to them. When I asked for a picture from him for my blog, he happily obliged by showing off his back muscles. He's also studying Chinese at the moment, so it's clear he goes out of his way to make his fans happy."
---
Christinna Pedersen & Kamilla Rytter Juhl (DEN)
Women's Doubles—Rio Olympic Silver Medalists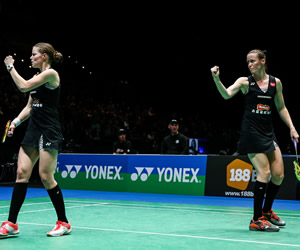 Left-handed Kamilla Rytter Juhl stands at a towering 183 cm, while partner Christinna Pedersen stands at 178. In women's doubles, they're they tallest pair. When on the court, the pair is intimidating in the face of their opponents, leaving them lost as to where to serve.
While the pair gained recognition for their Olympic Silver Medal, the 33 year old and 30 year old veterans are better known for their mixed doubles achievements. Rytter Juhl earned the BWF World Championships mixed doubles Gold Medal, while Pedersen got the Bronze at the London Olympics in mixed doubles.
The manner in which these two harness the success of the mixed doubles career in their women's doubles game is worth looking at.
The Ambidextrous Pair
On Pedersen & Rytter Juhl's Playstyle
"The key to this pair's success is how the right-handed Pedersen attacks at the front, while left-handed Rytter Juhl makes the winning shots.
Against this dangerous Danish pair, opponents will usually compete against them as if they are competing against a right-handed pair. That's where their chance for success comes. When the chance comes, Rytter Juhl will strike at the right time to win the match. You can see the "Yes, the time is now!" feeling on her face. (laughs)"
Pedersen & Rytter Juhl's Super Shot
"Rather than their shots, their fast touch on service and reception is worth looking at. Since they have long arms, they can pick up the shuttle at surprising speed. Their returns are fast and unpredictable. They have wide repertoire, leaving their opponents sweating."
Their Road to the Silver
"The two of them have great offensive power, so I imagine in the past they were really into attacking. Now they stay away from careless attacks, and stay calm until the right moment to strike. They wait for the big chances, and have been able to pick up points more often."
What to Look Out For
"Their opponents in the Rio final, Ayaka Takahashi and Misaki Matsutomo, have been together for a while, but this Danish pair has been together for 10 years. Because of this, their roles on the court are quite set in stone.
They have opposing personalities as well—Pedersen is very mentally calm, while Rytter Juhl is more of a wild spirit. It's Pedersen who carefully watches the court, and gets the opponent swept up in their pace. They are friendly pair, always with big smiles on their faces."