News
|
Preview3
|
Preview2
| Preview1 |
Preview 1
The Battle Moves from Brazil to Japan! A Look Back at the Summer Olympics
August 21st marked the auspicious end of the 2016 Rio de Janeiro Summer Olympics. The Rio Olympics marked the seventh time badminton has been held as an official sport at the Games, and the results proved to be a huge wave of change for the sport. With the exception of Fu Haifeng in men's doubles, The Games in Rio welcomed new champions across four disciplines, each from four different nations—a stark contrast to the London Olympics, in which every Gold Medal went to Chinese athletes.
Spain and Japan welcomed back Gold Medalists for the first time, with Carolina Marin triumphing in women's singles, and Ayaka Takahashi and Misaki Matsutomo conquering in women's doubles.
Japanese Pair Seize First Gold Medal for Their Nation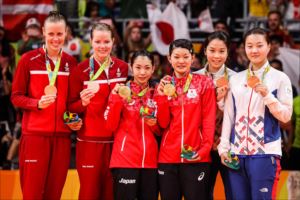 Japanese doubles pair Ayaka Takahashi and Misaki Matsutomo pulled off an amazing comeback to win Japan's first badminton Gold. Down 16-19 in the third and final game, the pair of 10 years reeled of 5 points to come back from the brink, defeating Danish opponents Christinna Pedersen and Kamilla Rytter Juhl.
"I think we're the best team in the world," spoke Takahashi proudly of the duo's partnership after winning. Their performance at the Games saw the duo exhibit their characteristic combo of ironclad defense and relentless offence.
Inspiration struck the girls in the final game. With increasing net errors and fears that their opponents were gaining the upper hand, the two persevered in their rallies. Even at 16-19, the desire to simply enjoy the match propelled Takahashi and Matsutomo, giving them the momentum to shoot shuttles past their opponents, and clutch victory.
"I never thought I'd ever hear the Japanese national anthem play at the end of an Olympic badminton tournament. I am so happy to have won here," commented Matsutomo.
Takahashi and Matsutomo Ahead of YONEX OPEN JAPAN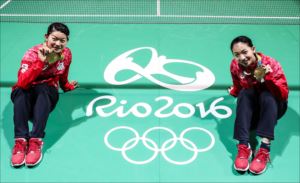 Before taking off for Rio, we caught up with Takahashi and Matsutomo to get their thoughts on YONEX OPEN JAPAN.
"When I first played here in my last year of high school, I had never been in such a large venue in front of so many people," spoke Takahashi. "I was so happy. Winning here in 2014, our plays diversified, and we gained confidence. The reason we have gotten so far is thanks to our title at YONEX OPEN JAPAN."
"I've always wanted to compete here," said Matsutomo, "Ever since going pro, I've always wanted a Superseries title. It was YONEX OPEN JAPAN that made this huge dream of mine come true. I learned a lot at this tournament, so it is very important to me."
There is no doubt that their experience at YONEX OPEN JAPAN was pivotal to their Gold Medal in Rio.
The First Japanese Singles Medalist: Nozomi Okuhara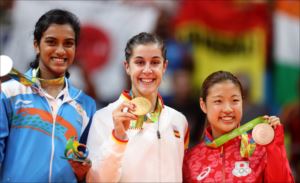 21-year-old Nozomi Okuhara earned the honor of becoming Japan's first medalist in women' singles. She shot to the top in the group stage, expertly defeating Korean Bae Yeon Ju in straight games to reach the knockout stage. She went face-to-face with her junior teammate Akane Yamaguchi, proving relentless. Despite dropping a game, she displayed confidence in her physical abilities with ferocious moves around the court, tiring out her teammate to win the match.
After falling to Indian P.V. Sindhu, her bronze came after her opponent—London Gold medalist Li Xuerui—forfeited. "It's not the color I wanted, so I don't know if I should be happy or not. It is a pretty happy thing, though," she said.
Having seen hard times with injuries, Okuhara's climb to the top is nothing short of inspiring. "I was so happy I could play at a tournament for first time in three years at YONEX OPEN JAPAN last year. YONEX OPEN JAPAN is one of the few tournaments where I can play in front of my fellow Japanese fans, and I look forward to playing my best badminton on the court," confidently commented the young Okuhara looking towards YONEX OPEN JAPAN.
The Women's Singles Showdown: Spain VS India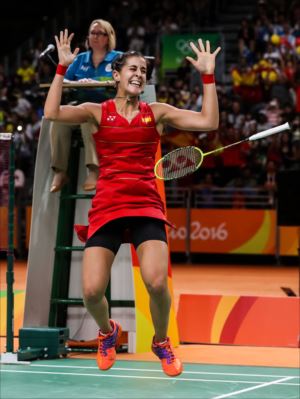 However it was Spanish Carolina Marin who stood the highest on the winner's podium at the Rio Olympics, proudly becoming Spain's first Olympic medalist in badminton. Second to Marin was Silver medalist P.V. Sindhu, who earned India's first ever Silver Medal in badminton. Along with defeating Sindhu for the Olympic Gold, Marin triumphed over badminton heavyweights such as Sung Ji Hyun and Li Xuerui on her road to glory. Sindhu also faced a host of tough adversaries in the form of Tai Tzu Ying, Wang Yihan and the aforementioned Okuhara on her journey to the podium.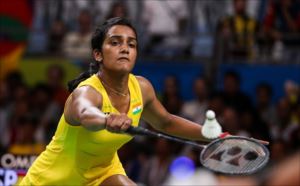 Both Marin and Sindhu are heavy on offence, resulting in a high-powered final match truly characteristic of the Olympics. The towering 180 cm Sindhu exhibited ferocious smashes, which Marin would viciously return. It was a tense see-saw battle right until the very end. The shining moment came when the more experienced Marin reeled off four points from 16-14 in the third game, proceeding the clutch her first Olympic Gold Medal. "I am too excited to express myself right now. I can't believe this is real," commented Marin after her historical feat.
These two super-powered athletes burned through 25 shuttles in their fierce final match—10 more than the amount usually used. This is no doubt proof of their extreme power. Furthermore, for the first time in 20 years, no Chinese players stood on the women's singles winners' podium. Spain, India and Japan—these three nations are truly rocking and expanding the world of badminton.
China Reigns in Men's Singles, a 3rd Silver for Lee Chong Wei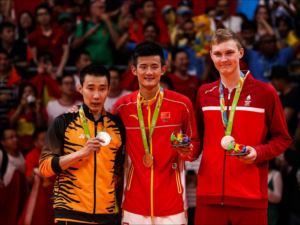 The final day of badminton in Rio saw 27-year-old Chen Long of China stand proud with his very first Olympic Gold Medal. Boasting a towering height of 188 cm, the Chinese powerhouse exhibited incredible sharp, angled shots, defeating Lee Chong Wei in straight games in the Malaysian's third Olympic final.
"I was happy to win at the World Championships, but winning at the Olympics which are only held once every four years is simply the best feeling ever," said Long. On the other hand, Chong Wei spoke of his third Olympic Silver Medal, "In the end, I couldn't get Gold. This is something I have to accept."
While Chong Wei was able to defeat Lin Dan—who took the Gold over Chong Wei in Beijing and London—he was still unable to earn the coveted Gold Medal. However, on the great Olympic stage, he proved the high quality of his craft with his quick reactions, brilliantly net play, and explosive smashes.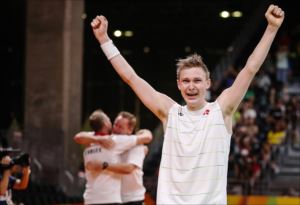 Meanwhile, the young 22-year-old Viktor Axelsen brought his young energy to the Games, earning the Bronze Medal after defeating Lin Dan—Denmark's first men's singles medal in 20 years. "I am so happy that my hard training paid off!" exclaimed Axelsen after earning his first Olympic medal.
Harnessing the power of his 194 cm height and undying spirit, the Dane was able to strike hard, cutting down on the rough plays and misses that have caused him trouble in the past. His performance on the Olympic stage was true proof of his growth as an athlete. His goal in four years? "The Gold in Tokyo," he declared.
How will Axelsen, who is poised to stand tall on the global badminton stage, face veterans like Lee Chong Wei? That will certainly be a match fans would love to see at this year's YONEX OPEN JAPAN.
China and Indonesia Stand Tall in Men's and Mixed Doubles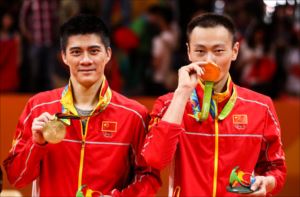 Both men's and mixed doubles saw top competitors in both disciplines topple, leaving the underdogs with the last laugh.
The unexpected developments started in during the Group Stage in Group D, which saw Kenichi Hayakawa and Hiroyuki Endo of Japan defeat Chinese pair Chai Biao and Hong Wei, followed by the formidable Mohammad Ahsan and Hendra Setiawan in just 59 minutes. In other groups, big names like World No. 1 pair Lee Yong-dae/Yoo Yeon-seong and Mathias Boe/Carsten Mogensen would eventually fall.
After Hayakawa/Endo's defeat in round 1 of the knockout stage, it was looking like anyone could clutch Gold. In the end World No. 4 Chinese pair Fu Haifeng and Zhang Nan stood at the top, defeating the Malaysian pair of Goh V Shem and Tan Wee Kiong who beat them in the group stage. Their time as a pair is short, but their collected past Olympic experience put them on top of the world.
Tontowi Ahmad and Liliyana Natsir stood tall for Indonesia in mixed doubles, winning the Gold Medal. The two went up against London Gold medalists Zhang Nan and Zhao Yunlei, soundly defeating them. They faced World No. 11 Chan Peng Soon and Goh Liu Ying from Malaysia in the final, winning in straight games to clutch Gold. "I have no words," exclaimed Ahmad.
The men's and mixed doubles competitions in Rio proved that underdogs have what it takes to stand at the top.
---
2016 Rio de Janeiro Olympic Results
Men's Singles
Gold: Chen Long (China)
Silver: Lee Chong Wei (Malaysia)
Bronze: Viktor Axelsen (Denmark)
Women's Singles
Gold: Carolina Marin
Silver: P.V. Sindhu
Bronze: Nozomi Okuhara
Men's Doubles
Gold: Zhang Nan/Fu Haifeng (China)
Silver: Goh V Shem/Tan Wee Kiong (Malaysia)
Bronze: Chris Langridge/Marcus Ellis (Great Britain)
Women's Doubles
Gold: Ayaka Takahashi/Misaki Matsutomo (Japan)
Silver: Kamilla Rytter Juhl/Christinna Pedersen (Denmark)
Bronze: Jung Kyung-eun/Shin Seung-chan (Korea)
Mixed Doubles
Gold: Tontowi Ahmad/Lilyana Natsir (Indonesia)
Silver: Chan Peng Soon/Goh Liu Ying (Malaysia)
Bronze: Zhang Nan/Zhao Yunlei (China)