News
|
Preview3
| Preview2 |
Preview1
|
Preview 2
YONEX OPEN JAPAN Draw Announced! Players from Rio Meet again in Tokyo!
The YONEX OPEN JAPAN 2016 draws have been announced! Read on to learn which top players will be making their way to Japan to compete for the championship title.
The Triumphant Return of the Japanese Medalists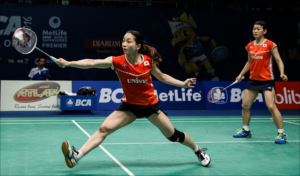 "They said to me, 'Badminton's great! I want to see more!'" spoke Olympic Gold Medalist Ayaka Takahashi. Japanese players in the Olympic Village were told this quite often after the nation's great showing at the Games. "I look forward to seeing those fans at Yonex Open Japan," Takahashi continued.
Badminton is seeing a huge surge in Japan with the success of Japanese Olympic medalists Ayaka Takahashi, Misaki Matustomo and Nozomi Okuhara. The venue at this year's YONEX OPEN JAPAN is expected to see a huge assembly of local fans and a strong showing of Japanese congratulatory banners in honor of these champs.
Danish Silver Medalists Vie for Japan Title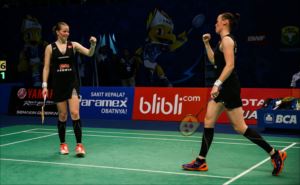 In light of the results from the 2016 Rio de Janeiro Summer Olympics, fans are expected to fill the stands at this year's YONEX OPEN JAPAN to see women's doubles.
World No. 1 Takahashi and Matsutomo are the No. 1 seeds at this year's YONEX OPEN JAPAN, and the second seeds are none other than their opponents from the final in Rio— World No. 5 Kamilla Rytter Juhl and Christinna Pedersen of Denmark . Given the two teams' opposing positions in the draw, they are projected to meet for a re-match in the YONEX OPEN JAPAN final. There is no doubt that it will turn out to be a match to remember.
The Olympic final saw the Japanese pair behind 16-19 in the final game. Despite all odds, they managed to secure 5 points in a row to pull off a veritable miracle. When asked about the final match, the Danish team lamented, "We would have liked to start over again from 16-19." In the very first Superseries after the Olympics, it is certain that the Danish pair wants to prove themselves against the Japanese pair this time, and win.
That said, both pairs' road to the final will by no means be an easy one. Standing before Takahashi and Matsutomo is the Dutch World No. 10 pair of Eefje Muskens and Selena Piek. While the Japanese pair managed to defeat this Dutch duo without dropping a game in the Olympic group stage, there is no doubting their abilities given their constant inclusion within the top ranks of Superseries competitors.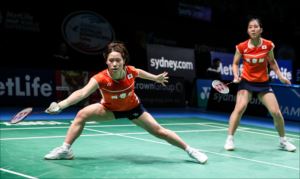 Even if the World No. 1 Japanese pair makes it past the Dutch team, awaiting them are No. 4 seeds Naoko Fukuman and Kurumi Yonao. At this year's Asia Championships—in the midst of the Olympic Race—Fukuman and Yonao lost to Takahashi and Matsutomo, and also lost their shot at the Olympics. YONEX OPEN JAPAN will most certainly see this pair try to get their revenge on YONEX OPEN JAPAN's grand stage.
On the opposing side of the draw stand World No. 6 Chinese pair Luo Ying and Luo Yu. The 25-year-old twins defeated eventual Silver medalists Juhl and Pedersen in the group stage, but were unable to make into the knock out stage after falling to Korean pair Jung Kyung Eun and Shin Seung Chan. This pair has a high chance of meeting up with the Danish pair in the semifinal. If they win, they would potentially meet Takahashi and Matsutomo in the final—another matchup that proves enticing.
Women's Singles Medalists Meet again in Japan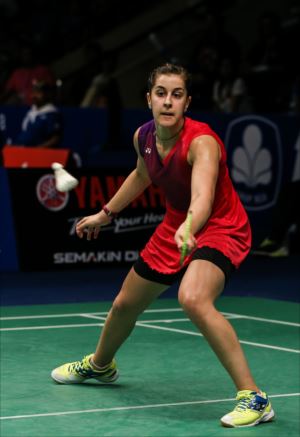 This year's YONEX OPEN JAPAN sees every single women's singles Olympic medalist set to step onto the court—World No. 1 Spanish Gold medalist Carolina Marin, World No. 10 Indian Silver medalist P.V. Sindhu and World No. 3 Japanese Bronze medalist Nozomi Okuhara. It goes without say that this is a most promising lineup that is certain to please fans.
Marin and Sindhu are set to meet in the quarterfinal—a match up every fan wants to see at the very end. Both offensive players standing at over 170 cm, there is no doubt that their matchup will prove momentous. This match is not one you want to miss.
The winner of that match will go on to meet World No. 5 Ratchanok Intanon of Thailand. The 21-year-old Intanon made big news this year, winning three straight Superseries tournaments. While she fell to Japanese Akane Yamaguchi in the Rio knockout stage, her skills are top class.
Another matchup that should really come in the final is expected to come in the quarterfinal—Okuhara vs Yamaguchi. Okuhara extended her record against Yamaguchi to 6-0 at the Olympics, but Yamaguchi managed to snag one game. Okuhara's driving force? "I just wanted to win against her," she said. Needless to say, an intense match is expected from these two. "I hope the fans enjoy it," commented Yamaguchi when asked about the potential quarterfinal meetup. "Last year we met in the semifinal, and it was pretty intense. The fans really liked it."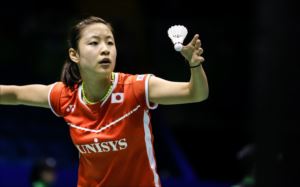 As for Okuhara, "YONEX OPEN JAPAN is rare chance for me to play in front of my fellow Japanese. I want to focus on each match one-by-one and perform well," she spoke.
Either one of these players could meet 2012 champion and World No. 7 Tai Tzu-Ying of Chinese Taipei in the semifinal, another match that should no doubt be worth watching.
Lee Chong Wei and Viktor Axelsen Touch Down in Tokyo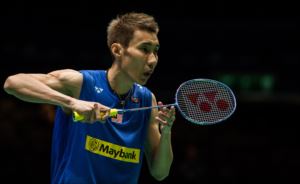 This year's YONEX OPEN JAPAN sees 13 of the world's top 16 take the court to vie for the crown.
Among these 13 is World No.1 Lee Chong Wei from Malaysia. Chong Wei has the distinction of holding the most ever YONEX OPEN JAPAN titles with five victories at the tournament, and makes it a point to compete at the tournament every year. While disappointed in his three consecutive Olympic Silver Medals, Chong Wei holds an incredible record, standing high in the world rankings for over 10 years. Fans will no doubt want to see his sublime net plays, huge smashes, and super human performance.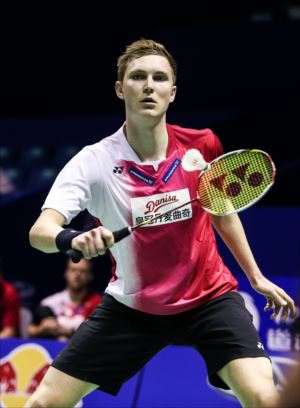 Going up against the 33-year-old Chong Wei is 22-year-old World No. 4 Viktor Axelsen from Denmark. He's the second seed at this year's tournament. While young Axelsen fell to Chen Long, he managed to defeat Lin "Super" Dan in his bid for the Bronze Medal. While the Chinese Legend was looking for a Gold Medal, he went home emptyhanded after three games and a 4-point deficit.
"Nothing compares to this happiness," said the 194cm Viktor, crying after receiving his Bronze Medal. This youngster who is already making a big name for himself in the badminton world will no doubt exhibit his amazing dominance on the court at this year's tournament.
Players such as World No. 5 Jan O. Jorgensen of Denmark and World No. 6 Tian Houwei of China have their eyes set on these medalists right from the early stages of the tournament, which should result in intense matches right out the gate. World No. 8 Son Wan
Ho of Korea is set to meet World No. 9 Tommy Sugiarto of Indonesia, in another match that should liven up the arena.
Local players set to appear at YONEX OPEN JAPAN include Kanta Tsuneyama and Kenta Nishimoto, two youngsters who will have to fight their way up through the qualifiers and into the main draw.
Men's and Mixed Doubles: Anything Could Happen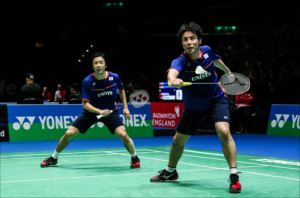 Given the constant take downs of favorites at the Rio Olympics, men's and mixed doubles matches are expected to be especially heated meetups for revenge.
The No. 1 seeds are Chinese World No. 4 Chai Biao and Hong Wei—who placed fourth at the Olympics. They will face World No. 8 Japanese pair Kenichi Hayakawa and Hiroyuki Endo. The Japanese pair won against these No. 1 seeds in Rio, and are have their gaze strongly fixed on the YONEX OPEN JAPAN trophy. After coming home empty handed from Rio, both of these Japanese players have a strong desire to exhibit their best performance in front of their local crowd.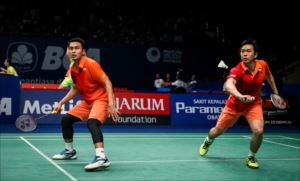 In the opposing side of the draw stand World No. 9 V Shem Goh and Wee Kiong Tan from Malaysia, current World Champions and World No. 5 Hendra Setiawan and Mohammad Ahsan from Indonesia, and World No. 7 Mathias Boe and Carsten Mogensen from Denmark. These pairs all boast great skills and results to prove it, and all have good chances at this year's title.
Mixed doubles features an impressive lineup made up Olympic Silver medalists and World No. 8 Chan Peng Soon and Goh Liu Ying from Malaysia, World No. 2 Ko Sung Hyun and Kim Ha Na from Korea, and World No. 4 Praveen Jordan and Debby Susanto from Indonesia. They are all expected to show off their world-class strength.
Local pair Kenta Kazuno and Ayane Kurihara are set to compete and will likely face World No. 7 Chris and Gabriel Adcock from the UK in round 2. Following that, they could potentially face Chan Peng Soon and Goh Liu Ying.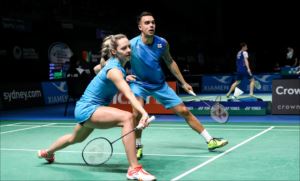 One pair the Japanese team has their expectations set on are the young team of Yuta Watanabe and Arisa Higashino. "We've been together for 1 year and 4 months, and have made great progress," they said. "We have our eyes on a medal in Tokyo, four years from now."
The starting line for this duo's journey to the 2020 Olympics is the main draw of this year's YONEX OPEN JAPAN. All eyes on are on them to see how they will blossom into top world class talent.
---
World Rankings Current as of September 1st