News
Match Reports
22nd September, 2016
Today, the 2nd round of the main draws took place in front of the big audience (5,850) on public holiday in Japan.
The player entered tomorrow in the quarter finals are follows:
MS
Lee Chong Wei (MAS)
Shi Yuqi (CHN)
Marc Zwiebler (GER)
Kidambi Srikanth (IND)
Jan O Jorgensen (DEN)
Khosit Phetpradab (THA)
Son Wan Ho (KOR)
Viktor Axelsen (DEN)
WS
Ayumi Mine (JPN)
Aya Ohori (JPN)
Ratchanok Intanon (THA)
He Bingjiao (CHN)
Sun Yu (CHN)
Sayaka Takahashi (JPN)
Akane Yamaguchi (JPN)
Nozomi Okuhara (JPN)
MD
Jhe-Huei Lee & Yang Lee (TPE)
Kim Gi Jung & Ko Sung Hyun (KOR)
Hiroyuki Saeki & Ryota Taohata (JPN)
Takeshi Kamura & Kiego Sonoda (JPN)
Li Junhui & Liu Yuchen (CHN)
Mathias Boe & Carsten Mogensen (DEN)
Huang Kaixiang & Wang Yilyu (CHN)
Mohammad Ahsan & Hendra Setiawan (MAS)
WD
Misaki Matsutomo & Ayaka Takahashi (JPN)
Jongkolphan Kititharakul & Rawinda Prajongjai (THA)
Puttita Supajirakul & Sapsiree Taerattanachai (THA)
Shiho Tanaka & Koharu Yonemoto (JPN)
Shizuka Matsuo & Mami Naito (JPN)
Luo Ying & Luo Yu (CHN)
Vivian Kah Mun Hoo & Khe Wei Woon (MAS)
Christinna Pedersen & Kamilla Rytter Juhl (DEN)
XD
Ko Sung Hyun & Kim Ha Na (KOR)
Nipitphon Phuangphuapet & Jongkolphan Kititharakul (THA)
Kim Gi Jung & Shin Seung Chan (KOR)
Peng Soon Chan & Liu Ying Goh (MAS)
Lu Kai & Huang Yaqiong (CHN)
Joachim Fischer Nielsen & Christinna Pedersen (DEN)
Zheng Siwei & Chen Qingchen (CHN)
Puavaranukroh Dechapol & Sapsiree Taerattanachai (THA)
Losers among high ranked players are follows
MS
Chou Tien Chen (TPE)
WS
Minatsu Mitani (JPN)
Sayaka Sato (JPN)
MD
Hiroyuki Endo & Kenichi Hayakawa (JPN)
V Shen Goh & Wee Kion Tan (MAS)
WD
Eefje Muskens & Selena Piek (NED)
---
MS
Lee Chong Wei (MAS) 2 (21-8, 21-16) 0 Quia Bin (CHN)
Lee Chong Way completely overwhelmed Quia Bin through the match showing his incomparable splendid techniques.
He used beautiful cross net shots, well controlled high back clear, also showed several time his unique smash receive falling down to his side. He made Quia Bin run to all corners of court, then finished the shuttle Quia returned with killer shot from net area.
Of course Quia Bin did his best to return Lee's attacking shots covering the court with swift and smooth foot work. Especially in the second game, he competed against Lee closely until his 11-12 even though he made 4 consecutive errors outgoing the boundaries of Lee's court earlier stage of the game. Quia Bin caught up to 16-20, but Lee closed match 21-16.
Lee quoted; Today, my opponent was still young and not so experienced, however, I never played considering opponent's experience, techniques and power etc. but I always try to play with my very best performance.
There may be not so many chances left for me that I can play in this tournament. so, this time, I will do my best to stay in the tournament as long as possible to show my play before all Japanese fans supporting me.
Jan O JORGENSEN (DEN) 2 (21-14,21-13) 0 LEE Dong Keun (KOR)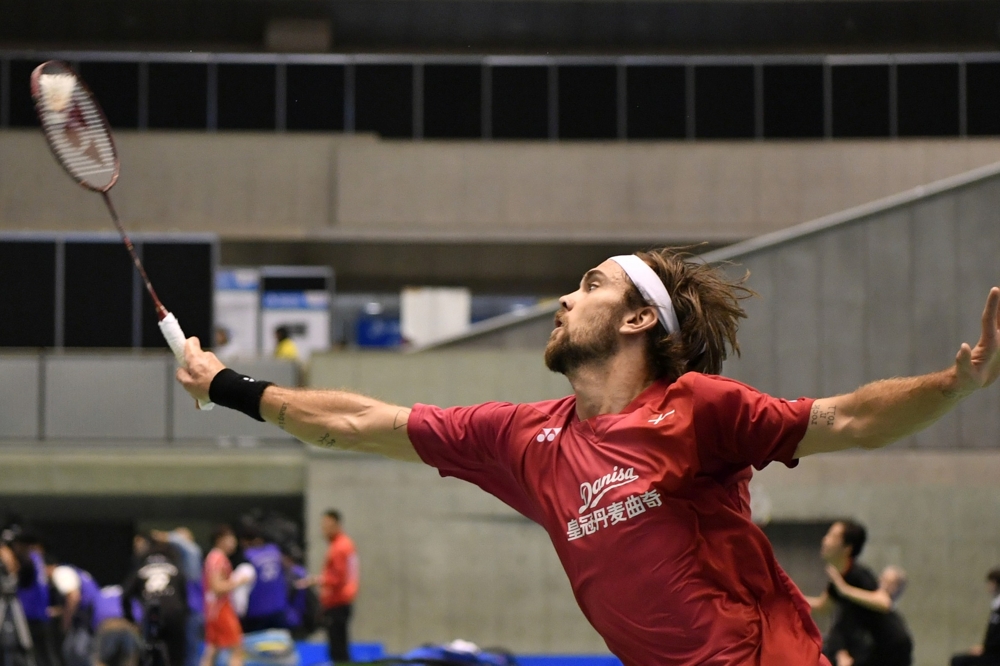 Jorgensen, # 5 world ranked Dane, competed against Lee, #15 ranked Korean in the center court.
From the beginning of the first game, Jorgensen aggressively attacked by the quick drives and smashes aiming the body of the opponent while Lee was forced to be defensive, thus the game was dominated by Jorgensen.
Tall Dane took the interval at 11-8 and accumulated the points to 15-8 once for all. Lee could almost nothing to do, and the game finished by 21-14 in favor of Dane.
The second game developed similarly. Jorgensen invited Korean to the net plays as well as the quick and hard hits, and he got high lobs which are again the opportunities of the smashes. The second game was easily taken by Jorgensen by 21-13.
After the game, Jorgensen said his body condition was better than yesterday and the strategy to keep the quick and hard hits worked very well. He was comfortable for today's game. Though the opponent tomorrow would be new for him, he would homework by watching videos and would try to do his best again. (s)
---
WS
Nozomi Okuhara(JPN) 2 (21-13, 21-16) 0 Chen Yufei(CHN)
This is the second time to play against Chen for Okuhara who is 5th BWF ranked and Bronze medalist of Rio Olympics 2016. Okuhara has defeated Chen in last meeting at China international Challenge 2015.
The first game went perfectly in Okuhara's pace. Her persistent defense and stable placement from front to rear court caused opponent's errors. Okuhara played keeping her strategy to shut out Chen from earning any consecutive point and won the game at 21-13.
The beginning of the second game, Okuhara made easy errors repeatedly and seemed to be nervous over her play. In the meantime, Chen earned point constantly and reached the 11point interval first at 11-10. However, Okuhara showed her toughness and earned 7 consecutive points from 11-12 to 18-12. Chen couldn't catch up with Okuhara and was defeated by 16-21.
In the press interview, Okuhara said, "I could show my own play to the Japanese spectators in this arena. I was surprised the number of the people in the arena, and the cheering of spectators gave me power. What I need to do for the tomorrow is just keeping this my playing style same as today."
Ratchanok Intanon 2 (THA) (21-11, 21-10) 0 Minatsu Mitani (JPN)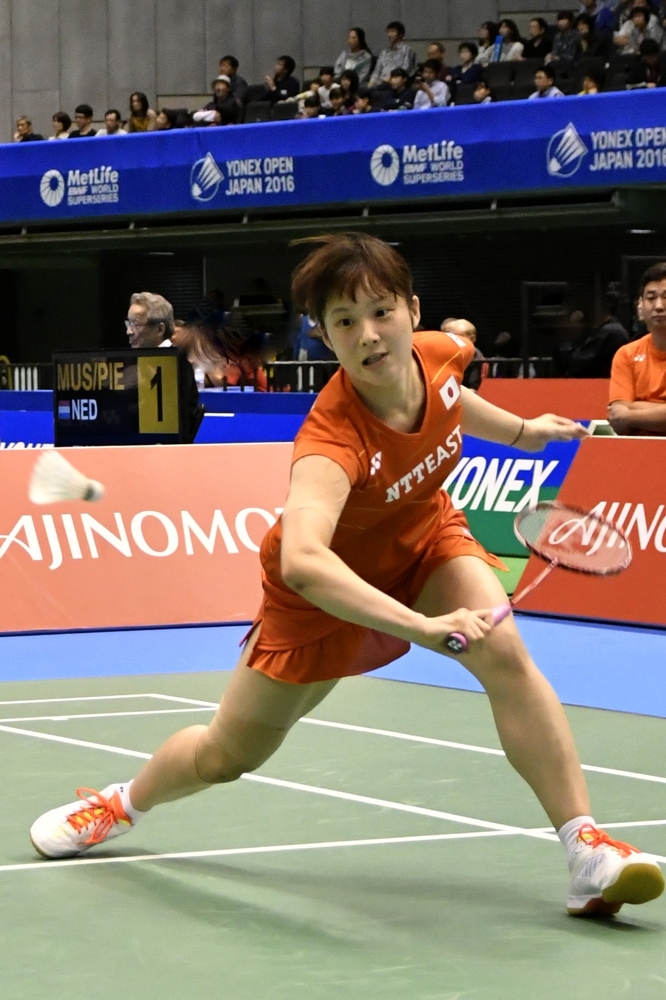 The gathering-momentum Thai woman player, Intanon steadily got closer to the 4th supersiries title of this year, following the victories in India, Malaysia, and Singapore. Today's match between Intanon and Mitani from Japan is the seventh encounter, with five wins by Intanon.
Soon after the first game began, Intanon launched a daring attack to Mitani with the steep and powerful straight smashes to the rear side of Mitani's court, taking an advantage of her 169 cm height. After Intanon reached to the interval at 11-6 with five-point leads, she made the Japanese player run much more distance by skilful cross-net shots. Intanon closed the first game at 21-11.
It was remarkable that Mitani could not focus on the defence of the smashes from Intanon in the beginning of the second game, with giving the consecutive points to her opponent. Moreover, Intanon hit the decisive smashes that did not let Mitani even touch the shuttle. Even after the interval at 11-4 led by Intanon, she, all the time, was keeping Mitani away by scoring consecutive points at several times. During the second half of this game, the slow drop shots by Intanon changed the pace and stopped Mitani's movement. In the end, Intanon decided the match at 21-10 will play the quarter final tomorrow.
At the mixed zone, "I could move faster than Mitani in the court today. Also, I could see how effectively each my shot worked to Mitani, so, as a result, I could successfully controlled the shuttle very well" Intanon said.
Sayaka Takahashi (JPN) 2 (21-17, 21-9 )0 Sayaka Sato (JPN)
1st game proceeded evenly but Takahashi kept leading through the game.
In the 2nd game, Takahashi overwhelmed Sato with her precious control both on attack and receive. Sato was rather difficult to anticipate Takahashi's intention and delayed to respond Takahashi's shuttles. Took 2 consecutive points to her 15-3 and closed the match 21-9.
---
MD
Huang Kaixiang & Wang Yilyu(CHN) 2 (23-21, 21-12) 0 V Shem Goh & Wee Kiong Tan(MAS)
Rio Olympic silver medalist, Goh/Tan pair, had to give up their hope winning the Yonex Open japan 2017 after losing 2 game-straight to China's pair.
Both Goh and Tan made few mistakes in the start of the first game and tried clawing back after interval. Nevertheless, the match was not as easy as what they had yesterday as Huang/Wang pair kept leading the game from the start to the very end.
"Right from the start we were confidence that we could win this game as we tried not to think unnecessary doubt or fear. Today's win has just given us an even more confidence to win a superseries title." said the young China's pair.
Mohammad Ahsan & Hendra Setiawan (INA) 2 (21-11, 16-21, 21-17) 1 Chen Hung Ling & Chi-Lin Wang (TPE)
The last match of Men's Doubles for today was won by Indonesia's pair, Ahsan and Setiawan. Although they comfortably displayed their dominance in the first game, Chen and Wang became far more aggressive and consistent in the second game.
In the second game, Ahsan/Setiawan pair was leading at one point 15-14, then Chen/Wang pair started to smash and rally steadily to reach 18-15 and closed the game at 21-16. The final game was quite the same as the second game with a see-saw until the 11 points interval. However, Ahsan and Setiawan kept pushing and led the game to the end at 21-17.
Whether they will spend time tonight studying about their opponent at the quarterfinal, both Ahmad and Setiawan said that they should first focused on their own technique and play because they did not think they are at their maximal now.
Mathias Boe & Carsten Morgensen (DEN)
2 (18-21, 21-15, 21-12) 1 Takuro Hoki & Yugo Kobayasi (JPN)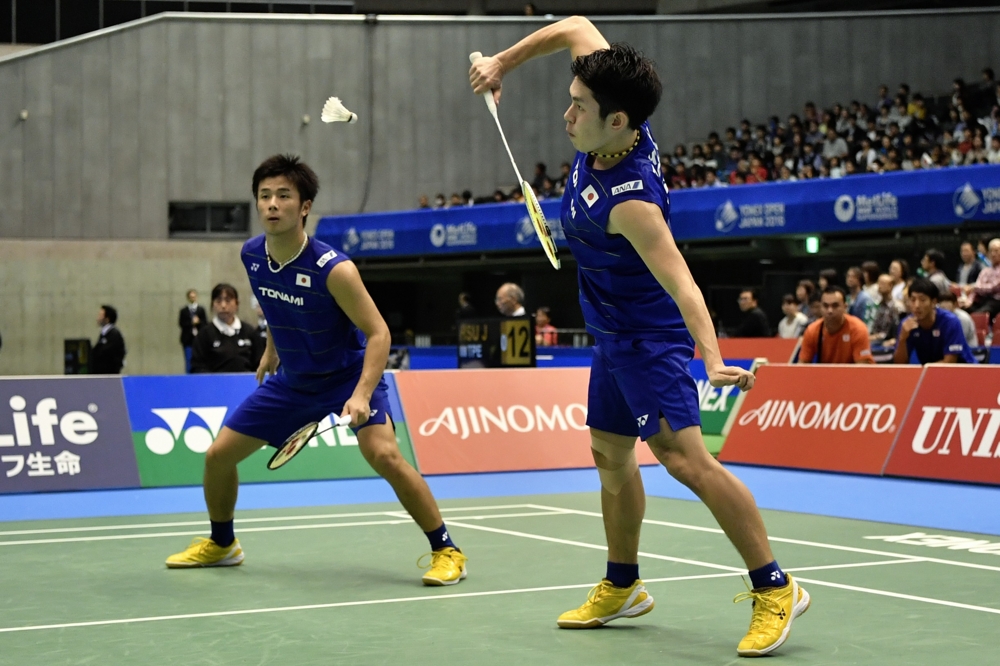 1st game proceeded seesawed with swift drive shots and smashes of both side till 16-17 of Japan pair. At this point, Japan pair sped up their play and took 3 & 2 consecutive points to close the game 21-18.
2nd game proceeded almost same as 1st game but after Denmark pair's 16-15, they completely controlled the rallies by using both fast and slow shots followed by killer shots from the net area.
Denmark pair got the game 21-15.
From the beginning of 3rd game, Denmark pair sped up their pace and took consecutive points to 6-0. It seemed as though the game will become one sided, however, Japan pair recovered themselves using very swift drive shots also quick response against Denmark pair's sharp shots to 9-10. At this stage, Denmark pair changed their tactics timely using rather slow but steep drop shots following consecutive swift and strong smashes. Japan pair could not catch up with such sudden change of pace and Denmark pair took 4, 2, and 5 consecutive points to close the match 21-12.
---
WD
Misaki MATSUTOMO & Ayaka TAKAHASHI (JPN)
2 (21-6,21-16) 0 CHIANG Kai Hsin & HUNG Shih Han (TPE)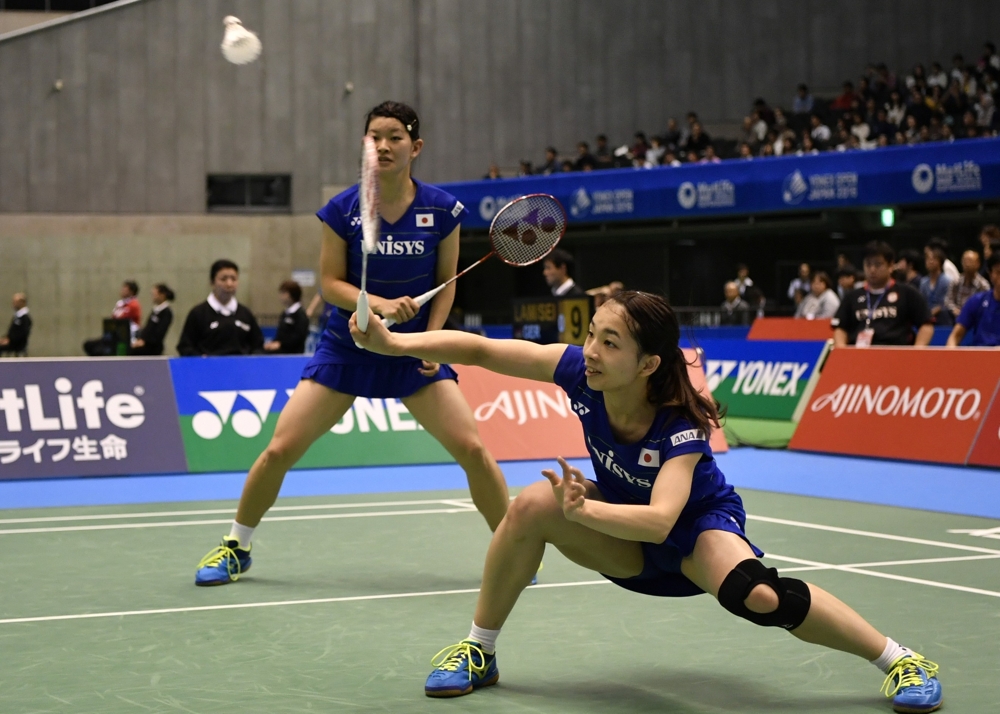 The Gold medalist, Matsutomo & Takahashi, advanced to the quarter final of WD YONEX Open Japan. They defeated Taiwanese pair through the almost one-side game.
As #1 ranked pair Matutomo & Takahshi showed their skill and power in front of the full audience. The first game was 21-6 and in the second game Taiwanese pair tried to perform their best, having 16 points against the Gold medalist.
At the press interview after the game, Takahashi said she was relieved as Today's game was the first one since the Olympic.
Matsutomo commented that she was also satisfied with the result as the pair has withdrawn due to her injury last year. She added tomorrow's opponent from Thailand is new for them and would like to enjoy the game. (s)
Luo Ying & Luo Yu(CHN) 2 (21-16, 21-11) 0 Maiken Fruergaard & Sara Thygesen(DEN)
BWF world ranking 5th China pair and 29th Denmark pair met the first time in their career.
In the first game China pair placed the shuttle from corner to corner forcing opponents only to return the shuttlecock that is easily caught by the China duo, and they played repeatedly and adapted the same strategy during the game. Speedy low clears were shot between both pairs, but there are no decisive shots from each of them. Because of that, they should have played patiently, but Maiken & Sara made unforced errors several time which led them to lose the game. Luo & Luo earned the point calmly in critical situation and won at 21-13.
Both pairs lost their concentration from the beginning to 11point interval in favor of Luo & Luo of the second game. After that, China pair recovered their offensive posture and earned 5 consecutive points from 14-11 to 19-11. As the games went by, Denmark pair couldn't find any clues to defeat the opponent and gave China pair the victory of the match at 21-15 in 51 minutes.
---
XD
LU Kai & HUANG Yaqiong (CHN)
2 (21-17, 21-15) 0 Yuta WATANABE & Arisa HIGASHINO (JPN)
In the first game, both pairs could not play at their own paces, the score moved back and force. Japanese took the lead by 11-10 at the interval. However, Chinese tried to gear up the speed and they soon reversed by 13-11 and 18-14. Huang touched the shuttlecocks quickly in the front court and made the chances for Lu to hit the steep smashes, while Japanese made unforced errors including the line over lobs which might be affected by the breeze in the stadium. The game closed at 21-17 in favor of Lu and Huang.
In the second game Lu, whose height is 192 cm, continued to hit the steep smashes and Huang rarely lift the lobs, instead she stroked low and quick drives or net shots with good anticipation. At the interview, Huang said that because young Japanese pair time to time attacked strongly from the rear court, she tried to keep the shuttlecock in the middle or the front court.
During the second game Higashino sometimes showed her talent of quick touches and made beautiful aces, but Watanabe made errors more than usual which he admitted after the game. Chinese almost always advanced the points and the score moved 11-8, 15-11, 18-15 and finished by 21-15.
A young Japanese pair challenged bravely, but got away from the tournament. Chinese #10 world ranked pair who is Australian Open Champion this year mentioned the Championship of this tournament is goal for them. (s)
Kim Gi Jung & Shin Seung Chan (KOR) 2 (21-13, 21-15) 0 Kenta Kazuno & Ayane Kurihara (JPN)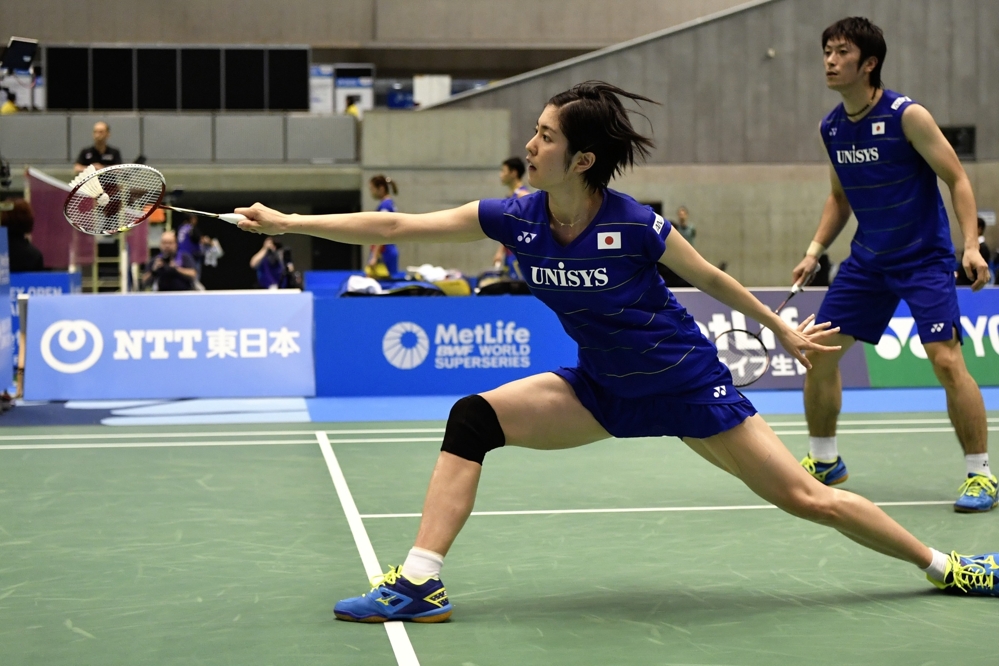 This is the same card as in the Yonex Open Japan 2015, when Korean pair won. The head to head of them is 2-2 up to now, so which pair will be ahead of the pack?
The Korean pair fully dominated the first game from the beginning to the end. Shin placed the shuttle near the net and led to the golden opportunity to earn the points by her partner, Kim with his powerful jumping smashes. On the other hand, through the first game, the Japanese pair could not attack satisfactorily but just kept receiving the shuttle to Korea's court. The Korean pair closed the game 21-13.
The Japanese pair came back to their usual styles, with the steep smashes by Kazuno from the back court area and the push shots by Kurihara at fore court area. However, after Korea's 11-6, Korea's low and sharp drive shots went to the middle of the opponent's court and caused Kurihara's errors. Although Japanese fans in the arena rooted for the Japanese pair, the Korean pair put on a final spurt with three consecutive points to close the match 21-15.
Kazuno and Kurihara said at the press conference, "The Korean pair's returned our attack so widely, so we were forced to move around the court right and left. We are very regretful that we could not play as usual."